Tentacles, Aliens, and More!
What is Real-Life Hentai?
TENTACLE HENTAI
December 25, 2022
With the popularity of Hentai, and its rise to the very top of all porn lists, it's no wonder it eventually came to life. 
The first animated hentai dates back to 1984, almost 40 years before it became real life. If we were to take the true origin of hentai, it goes back even further, to 1814, to the first known tentacle hentai. In 1722, the Japanese government has outlawed hentai, meaning it's even older than that.

Real life hentai, on the other hand, is a new thing, and it's as real as it can be. The characters are replaced with actresses and actors, tentacles and monsters with props and CGI, and it is filmed from multiple angles by real professionals, meaning a better quality of the end product all around.

So to brazenly say that it's hentai in real life wouldn't be an accurate depiction. It still involves a lot of filmmaking and a big budget, but it feels much more realistic and gets finished faster from start to finish. Despite the realistic part of it, real life hentai still tries to be as close visually and acting-wise to the source material rather than keeping it all "human".
Ahegao faces, excessive loads of cum, and alien abduction or kidnapping storylines are close to being guaranteed in each video.
How Real Life Hentai Started
The origin of real life hentai, at least the first signs of it, would be the "alien dildos" and cosplay girls. Soon enough ahegao faces became widespread, and with the appearance of girls like Belle Delphine, the whole genre got some wind to the back.
But it was still girls masturbating or getting fucked in costumes while making those sweet ahegao faces. Something was lacking, there were no tentacles, no storylines that one could get attached to, just straight-up porn with some fairy dust sprinkled on it.
That's when the true real life hentai started. Hentaied was created, and its mission was, and still is to deliver the hentai style, tentacles, oviposition, cumflation, and much more to the public. Nothing of which would be possible without some of the tools that regular content creators have no access, talent, or funds for.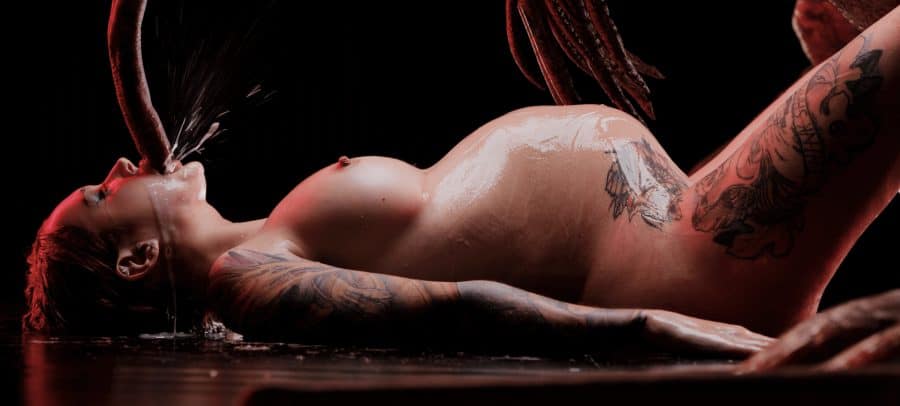 Want more real-life hentai?
How about more than 130 exclusive real-life hentai scenes with tentacles, cumflations, alien monsters and LOADS of cum? Join today and enjoy our ever-growing, unique collection of videos!
How It's Going
Let's keep it real, hentai is not just about tentacles, and while Hentaied might be the pioneer of real life hentai and the only site where you'll find quality real life tentacle porn, there are other sub-genres as well.

One of them would be Futanari. In other words, futas are girls with both reproductive organs who either are that way or coincidentally find themselves growing a cock and becoming obsessed with fucking anything that moves. Bringing that kind of visual to your screens requires in some ways even more hard work but it's a joy to watch if you're a fan.
Or you can see some stuff like Parasited. It revolves around girls being possessed by an alien parasite that controls their minds and wants to possess other people. And how does it do that?
Well by turning its host into a sex-frenzied fiend that would fuck any person they come across, even their best friends.
Should I Watch Real Life Hentai?
It all depends on the taste, but if you like hentai, you're likely to find joy in real-life hentai as well. The good thing about it is that it caters to both crowds, the ones who are into hentai and the ones who aren't. It's a multi-dimensional thing that has a lot of fans all across the board and something to offer no matter what your preferences are.