Everything You Need to Know About Alien Hentai
What is Alien Hentai?
Tentacle Hentai
February 6, 2023
Hentai originally came from Japan, and its most unique features include tentacles, BDSM, a big load of jizz, ahegao faces, and some form of alien encounters. It is definitely not for everyone, but for the ones who enjoy this type of content, it surely provides amusement that plain porn does not. There are various types of hentai porn out there but the one that is attracting a lot of attention is alien hentai.

Alien hentai is an erotic art that usually involves an amazing-looking babe, out-of-this-world beauty with assets that are unmatchable, getting drilled by a creature that comes from outer space. From this point, the imagination can go anywhere, and the most common theme is the extremely dominant sex.
There is a real thrill in watching alien hentai, especially for fantasy admirers. The main reason is that the sex is between a bombshell and an unknown creature that is capable of many things. Aliens during sex can do what humans can't, so the fact that our babe is being nailed by something never seen before can bring a crazy climax.
What Makes Alien Hentai Great?
Of course, there is dick penetration, but we all know and expect that. The girls are often depicted as cock-starving sluts that need to feel more than one dick inside of them. This is where the tentacles usually appear. The real fun can begin once the Alien realizes that it can do whatever it pleases. 
While the alien dick is in the pussy, tentacles will usually wander around the girl's body, looking for openings. Lucky for them, the girls are always welcoming to more penetration and their asshole starts getting stimulated. As it gets deeper in her ass, more tentacles appear and start stuffing her mouth. At this point, the anime babe is filled in almost every hole in her body.
For fans of fantasy, this is a real treat. Penetration in multiple holes is amazing. It's like gangbang but with only two people, or in this case one person and one alien. Probably the best thing is how girls are depicted in these erotic novels and videos. They are afraid, but at the same time are having a sexual experience out of this world, literally. 
Get Your Fill With Real Alien Hentai
The scenes that are available in real-life hentai alien porn videos simply cannot be created anywhere else. The shot of both ass and pussy getting pounded with tentacles, while the girl is slurping on that alien cock will make anyone reach orgasm quicker than usual. There is a reason for the popularity of this genre.
Once a person watches alien hentai it will be extremely hard to reach orgasmic bliss again with just regular porn. It is not good enough. It just doesn't give us the fill we need. There is a high demand for more extreme sex, and of course, alien tentacles. Those bad boys can truly do wonders, wonders that no dick can ever achieve.
It probably gives the same amount of satisfaction to both men and women, if not women a little bit more. Nevertheless, it will be at the top of your porn choice. You can finally enjoy, and get your fill watching the hottest sluts getting pumped with white goo over and over again, in all of their holes.
Videos To Check Out
With everything mentioned above, it is the right thing to do to give proof with a couple of video suggestions. Here are a couple of alien hentai videos that should be checked out immediately. 
Agatha Vega starring in a hentai video with alien tentacles and a lot of jizz? Yes please! The pussy penetration is intense, featuring multiple tentacles probing her slit at the same time. It's followed by alien anal sex and then some real-life alien impregnation hentai that results in serious cumflation. The look on her face will tell you that she is terrified, but at the same time, the amount of pleasure she is receiving is otherworldly. Her holes are getting stuffed constantly. It surpasses regular porn by far.

Eve Sweet and Alya Stark:

Cum Dinner
Another example of beautiful Eve Sweet and Alya Stark, getting drilled and covered with monstrous amounts of jizz. The tentacle work in this one is amazing as they share them with each other, extracting every last drop of that sweet alien dick juice. Ultimately, we will see them kneeling, scraping every last bit of that tentacle semen from the floor with their lusty tongues.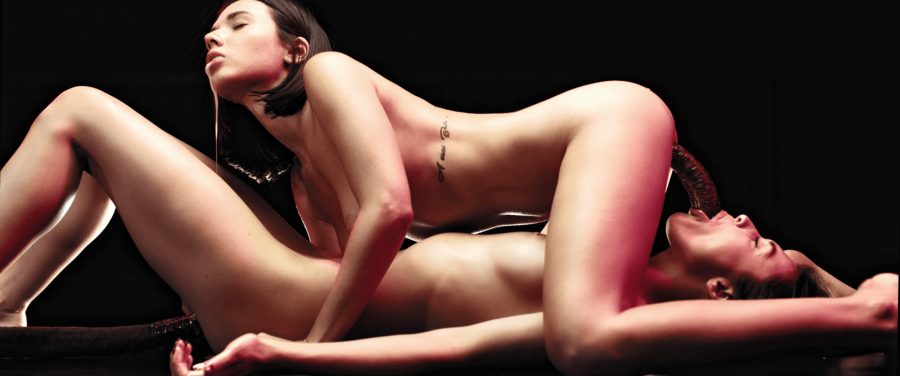 Fantasy meets hentai:

A Drow Elf
There are other races of chicks than humans, and in this case, it's Alya Stark as a stunning elf, getting her flower spread and drilled with alien limbs. The arousal she reaches makes her nipples burst with milk, signaling that she's ready for that thick alien tentacock to pound her elf pussy. Our real-life hentai alien tentacle fills her up nicely but the elf babe is craving a tentacle semen feast, so she swallows whatever jizz drips out of her slit.

Want more real-life alien porn?
Join Hentaied and enjoy more than 130 exclusive real-life hentai scenes with aliens, tentacles, TONS of cum and much more!